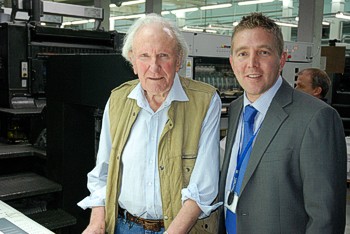 LONDON, ENGLAND - Renowned wildlife artist and conservationist David Shepherd was thrilled to attend a press pass for the David Shepherd Archive Collection book. The book that is being limited to 1,000 copies to be signed and numbered by the artist will go on sale in May 2011 as part of the celebrations of David's 80th Birthday. Speaking during his session on press David said, "After seeing the mind boggling technology being used to print my archive collection, I am even more excited about seeing the finished article. I am thrilled to be working with Westerham Press and so proud to see my book being produced by talented British craftsmen, here in the UK"
Having worked alongside David for some time in colour correcting and retouching his works to ensure an accurate facsimilie, Ian Paull was thrilled to advise the artist on press and see the project through to fruition. "Having the artist close at hand on this project has been invaluable, his insight is finely tuned and has enabled us to continually adjust to get everything perfect before going to print" he said.
The book contains 119 of David's most treasured and respected works that tell the story of his career in art and are accompanied by amusing anecdotes throughout. It is bound in English vellum and green calf leather and presented in a bespoke solander box, retailing at £2,500 each.
More News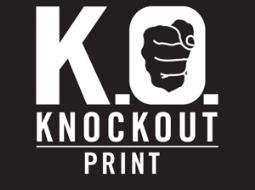 In 2019 Knockout purchased new Foiling/Laminating and Folding machines.